Ingredients
2 containers vegan cream cheese (Tofutti brand is best)
1 cup sugar
1 tsp. vanilla
1/4 cup lime juice (or key lime juice)
2 tsp. lime zest
2 tbsp. cornstarch
Graham cracker crust ( see below)
Garnish: fresh fruit
Nutritional Guidelines (per serving)
226
Calories
10g
Fat
33g
Carbs
2g
Protein
GRAHAM CRACKER CRUST RECIPE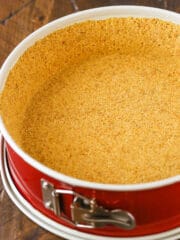 This graham cracker crust is easy to make and delicious, made from scratch with only four ingredients! It won't fall apart and it's perfect for baked pies, no bake pies and cheesecakes!
Prep Time: 5 minutes
Cook Time: 10 minutes
Total Time: 15 minutes
Yield: 9 inch pie or cheesecake 1x
Category:Dessert
Method: Oven
Cuisine:American
INGREDIENTS
PIE CRUST (BAKED OR NO BAKE)
1 1/2 cups (201g) graham cracker crumbs (about 11 full sheet graham crackers)
3 tbsp (39g) sugar
1/8 tsp salt
1/2 cup (112g) unsalted butter, melted
CHEESECAKE CRUST (BAKED OR NO BAKE)
2 1/4 cups (302g) graham cracker crumbs (about 17 full sheet graham crackers)
5 tbsp (65g) sugar
1/8 tsp salt
10 tbsp (140g) unsalted butter, melted
INSTRUCTIONS
1. Add the graham cracker crumbs, sugar, and salt to a large bowl and whisk to combine.
2. Add the melted butter and stir until well combined.
3. Pour the mixture into the pie pan or cheesecake springform pan and spread the crumbs around so that they are evenly dispersed.
4. Press the crumbs into the bottom and up the sides of the pan. Pack it firmly. Use a measuring cup or glass with sharp corners and straight edges to help and use your fingers for the sides of the pie pan.
5. For a baked crust, bake at 325 degrees for 8-10 minutes. For a no bake crust, refrigerate until ready to add the filling, then keep refrigerated for 2-3 hours before serving. Keep refrigerated until ready to serve.
NOTES
You can use granulated sugar or brown sugar.
Keep a no bake crust refrigerated until serving. The cold butter is what keeps the crust together, if it sits out and the butter softens, so will the crust.
The amount of crust listed for a pie is best for a 9 to 10 inch pie pan. The amount listed for a cheesecake is best for a 9 inch cheesecake.
Steps to Make Filling
Pre-heat the oven to 350 degrees.
In a blender or food processor, combine the vegan cream cheese, sugar, vanilla, lime juice and zest, and cornstarch. Process until smooth and creamy. Pour into pie crust.
Bake for 50 to 60 minutes, until cheesecake is lightly golden brown on top. Allow to cool, then chill for at least 2 hours before serving.