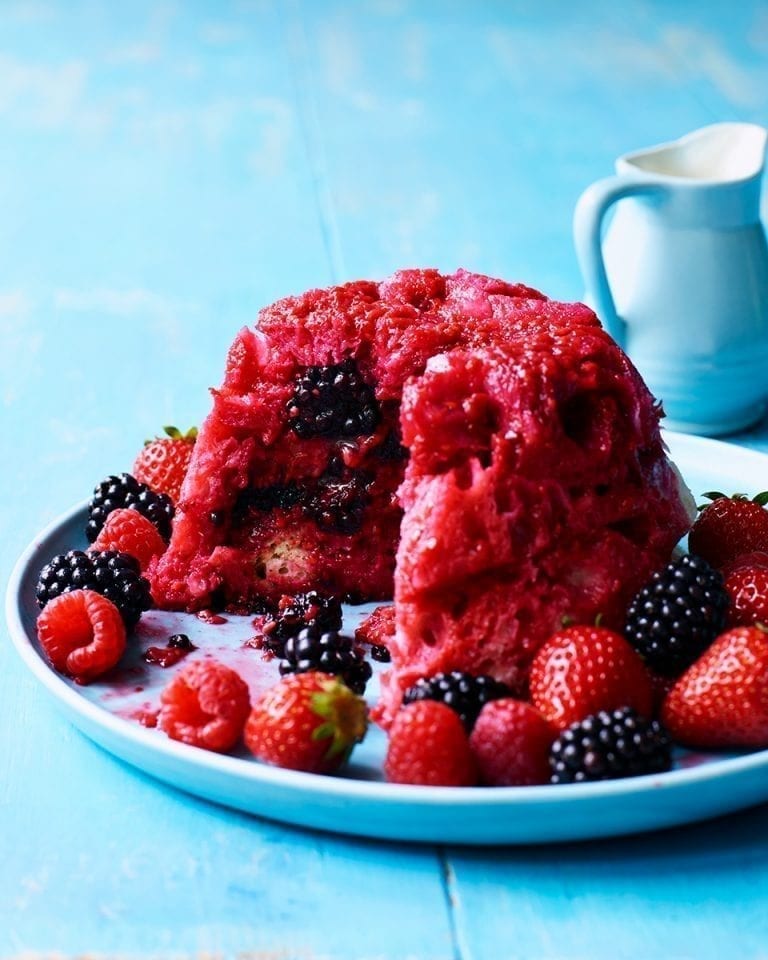 SERVES 4-6
HANDS-ON TIME 20 MIN, PLUS AT LEAST 6 HOURS CHILLING
"Summer pudding isn't something we have in France. I first tried one at my mother-in-law's house not long after I met my wife and I loved it. To me it symbolises the British summer, and it's great that I can use up stale bread and a glut of fruit from the garden to make one." – Richard Bertinet.
6-8 slices (not too thick) stale sourdough bread, crusts cut off
600g mixed soft fruit, plus extra to serve – optional
100g caster sugar
2 tbsp crème de cassis
You'll also need…
Method
Line the base and sides of the basin with bread to cover completely; trim the bread to shape if necessary so the slices fit closely together. Keep 2 slices aside to make the lid.
Remove the stalks and/or stones from the fruit and put in a wide, heavy-based pan. Add the sugar and bring to the boil, then reduce the heat to low and cook for 2 minutes or until the fruit is just starting to soften and release juice.
Set aside 3-4 tbsp of the juice (chill), then spoon the fruit and the rest of the juice into the prepared basin and cover with the rest of the bread (trim to fit). Put a plate that just fits inside the rim of the basin on top of the pudding and weigh it down with a heavy tin or jar. Put the basin, with the weight on top, in the fridge to chill and set for at least 6 hours, preferably overnight.
To serve, remove the weight and the plate and slide a palette knife round the inside edge of the basin. Cover the basin with a plate, then invert the pudding onto the plate. Mix the crème de cassis into the reserved juices, then pour over the pudding. Serve with crème fraîche or pouring cream, and extra berries if you like.
This recipe is from Richard Bertinet, of The Bertinet Bakery and The Bertinet Kitchen Cookery School. Visit his website for more.