From the book
The Marshmallowist by Oonagh Simms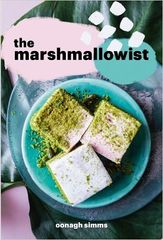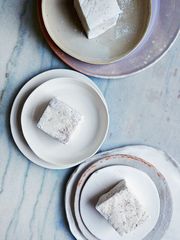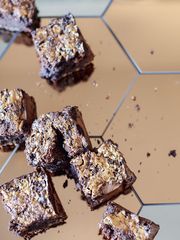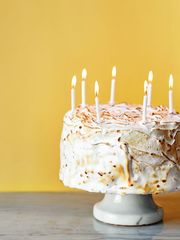 Makes 36 x 3cm squares
Ingredients
| | |
| --- | --- |
| 250g | icing sugar, mixed with 250g cornflour, for dusting |
| 2 tsp | agar powder |
| 200ml | water |
| 200g | granulated sugar |
| 100g | glucose syrup |
| 3 | egg whites |
| 1 tsp | guar gum |
| 1/4 tsp | cream of tartar |
| 2 tsp | vanilla bean paste |
Essential kit
You will need a 20cm square baking tin, a sugar thermometer and a stand mixer.
Instructions
1. Line a 20cm square baking tin with cling film and dust in a small portion of the 50/50 sugar/cornflour mix.
2. Dissolve the agar powder in 120ml of water in a small saucepan and leave to one side.
3. Mix together the sugar, glucose and 80ml of water in a pan and bring to the boil to make your sugar syrup. Cook the mixture until it reaches 120C on a sugar thermometer.
4. Put the agar mixture on the heat, bring to the boil and cook for one minute, stirring constantly.
5. Combine the egg whites, guar gum, cream of tartar and vanilla whip until stiff, usually about 4 minutes. Gently pour the sugar syrup in, keeping your mixture on a medium speed. Increase the speed, and continue to whip for 2 minutes.
6. Add in the cooked agar mix and beat for a further 12-15 minutes at full speed. The marshmallow mixture should be stiff and produce firm ribbons.
7. Pour into the tin and smooth with a damp palette knife. Leave to set overnight at room temperature.
8. Dust a work surface by sifting over a thick layer of the dusting mix. Tip the marshmallow slab out of the tin, using the cling film to give you some lift. Dip a sharp knife in hot water to heat it, trim the edge of the slab neatly, then cut into squares. Roll in dusting mix, then leave to dry for 24 hours before eating. Store in an airtight container at room temperature for up to 5 days.