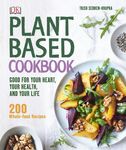 Buy now Serves 10 Easy
Ingredients
| | |
| --- | --- |
| 320g | rolled oats |
| 2 tbsp | brown sugar |
| 1 tsp | ground cinnamon |
| 1 tsp | sea salt |
| 120ml | grapeseed oil |
| 120ml | maple syrup |
| 75g | chopped pecans, walnuts, or your favourite nut |
| 85g | raisins |
| 4 tbsp | pumpkin seeds |
Instructions
1. Preheat the oven to 150°C (300°F/Gas 2).
2. In a large bowl, combine the rolled oats, brown sugar, cinnamon, and salt.
3. In a small bowl, whisk together the grapeseed oil and maple syrup, and pour over the oat mixture. Using a large spatula, fold the ingredients together until everything is well mixed.
4. Spread the granola on a large baking sheet, and bake for 20–25 minutes, stirring twice during baking, until the granola is toasted and golden brown.
5. Transfer to a clean bowl; stir in the pecans, raisins, and pumpkin seeds; and allow to cool completely. Store in a tightly sealed glass jar for up to 1 week.
Tip: You can easily customize this recipe. For Nutty Chocolate Granola, add some chocolate chips or for coconut add coconut flakes