Mint and chocolate go together like gin and tonic, pen and paper and Benson and Stabler. These chocolate and mint biscuits are made with a crunchy biscuit base, a soft coconut and mint filling, and a hard chocolate shell. Serves 12.
Ingredients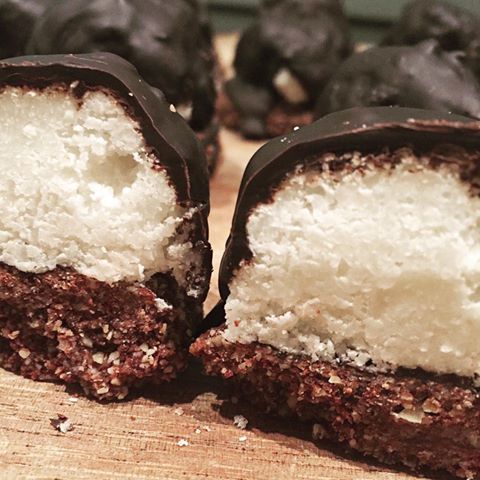 1 cup (175g) dates
3/4 cup (69g) rolled gluten-free oats
1/2 cup (76g) raw nuts
1 tsp ground vanilla beans
1 tbsp coconut oil
1 1/2 tbsp cacao/cocoa powder
3 cups (279g) shredded coconut
1 tsp peppermint extract
1 tbsp water
1 tbsp liquid sweetener (rice malt syrup, maple syrup etc.)
150g 85% non-dairy dark chocolate (or other vegan chocolate of your choice), melted
Method

Preheat oven to approximately 175 degrees Celsius and line a baking tray with baking paper.
Place dates, oats, nuts, vanilla, oil and cacao in a food processor and process until mixture starts to come together, leaving some chunks.
Roll mixture into small balls and flatten as you place on prepared tray.
Bake in the oven for approximately 15 minutes, or until as firm as you like them.
Meanwhile, combine coconut, extract, water and liquid sweetener in a blender until mixture starts to come together, and coconut starts to form a paste.
Roll coconut into balls and place onto biscuits, securing with some melted chocolate.
Transfer biscuits to the fridge and leave for 1/2 hour.
Remove biscuits from fridge and cover with melted chocolate.
Store biscuits in the fridge until ready to eat.
Recipe and image by Lancey Morris of sweetlancey.com